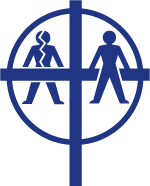 "We don't walk behind you, pushing and shoving. We don't walk ahead of you, pulling and tugging. We walk beside you, caring and loving."
When we reflect on what a Stephen Minister is and does, several descriptions come to mind. A Stephen Minister is a conduit between God and the care receiver, a listener, a companion, a lifeline, a hope finder, a journey partner, one who cares. A Stephen Minister is understanding, dependable and supportive. He or she is trustworthy and will stay by your side for as long as you need support.
The following are statements from some of the care receivers in our church who have benefitted from confidential Stephen Ministry Relationships:
"I was very pleased to have been given a Stephen Minister to help me through the process of grieving . I looked forward to our weekly get-togethers, praying and talking, either over a cup of coffee or taking walks. My faith became stronger and I gained a wonderful friend who truly showed me God's love."

"Thank you so very, very much for coming by for tea and conversation. Talking concerns out and your support have been a source of lessened sadness for me. Losses in life come in so many shapes and sizes and insinuate themselves so subtlety into our lives or they may come as big jolts ~ like lightening out of the blue. Talking them out can help put them in perspective and hopefully reduce their hold on us. Thank you so much for your caring visits."
"I met my Stephen Minister about eight years ago at John Wilson's suggestion. My husband was very ill and I was very anxious and worried. It did help to have someone compassionate to whom I could talk freely. My caretaker gave me comfort, companionship and prayer. We weathered that crisis and others since because she became such a great friend that she's like part of our family."
For more information on becoming a Stephen Minister contact Rev. Wilson, Julia Manners, or one of the Stephen Leaders, Nancy Ford and Kathryn Katz. If you or someone you know might benefit from a StephenMinister, contact them as well.